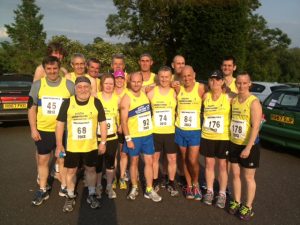 South Derbyshire Road Runners was formed in 1984 when a policeman and a hairdresser in Swadlincote noticed there were a lot of runners around. Putting an advert in the Burton Mail for interested runners to get together to form a club, the Club built until it became affiliated in 1985 and was originally named the South Derbyshire Road Runners Athletic Club.
It is a club that aims to get all standards of runners involved in the sport from the beginner to the seasoned racer. We have a number of qualified coaches and are able to offer individual training programmes if needed. Club nights have a diversity of standards. The coaches recognise this, offering a number of different options to meet that diversity.
We compete in the Leicester Road Running Winter and Summer Leagues, Burton & District Summer League, and the Derby Runner Cross Country Leagues.
We also organise a Club Championship which operates in leagues based on ability, where each year, members are required to complete a minimum number of races from the defined club listing to qualify for an award. It's a great competition and lots of fun!
In 2006 we added a walking section for those who do not want the rigours of running, or to use it as a stepping stone to becoming fit to run. (See Walkers page)
No club is complete without a thriving social side and throughout the year we aim to provide a range of opportunities for having fun together. In the past we have organised quiz nights, running treasure hunts, hare and hounds sessions, hill walks, meals out and even trips to foreign places for major events.
If any of this interests you send us an email via our contacts page or simply turn up on a Monday or Wednesday evening  just before 7.00 pm for a run (or Monday just before 7.30 pm for walking).  We meet at Greenbank Leisure Centre, see the map below for how to find us.